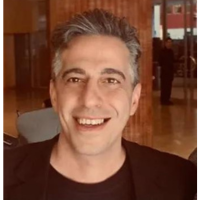 Ami Barda
Ami is an entrepreneur and serial CEO, who has been fortunate enough to build value from the ground up in multiple companies. Ami had his first go starting a business at 14.

ProQure is at the forefront of the Phygital revolution transforming physical products into digital platforms. Enabling seamless communication and data flow between brands
and consumers through proprietary IoT, advanced cloud infrastructure, and first-of-its-kind CXM (Customer Experience Management) OS.

A bit about Ami:

- Creative technologist and dreams architect, I have taken projects from ideation to a finished product in the IoT space, supply chain, B2B e-commerce, and gaming.
- Passion for problem-solving, I love taking complex ideas and making them simple.
- An active member of the start-up community both as a mentor and a speaker at industry conferences
- Strong business development professional with a BC In Advertising, investigated and practiced psychology.
- Skilled in Management, Business Development, Strategy, Product, and branding

Ami believes we need to touch a bit of everything to collect that magic dust that makes our time in this world more valuable to ourselves and everyone around us.

Ami has two extraordinary kids, is a foodie at heart (the type that can cook). loves boating, fishing, and traveling to places, one will call far away.